Session wrestling is a phenomenon that is becoming increasingly popular. For those who are unfamiliar with session wrestling, it is a private match typically between a man and woman for money (although some women enjoy private catfighting matches). In mixed session wrestling, the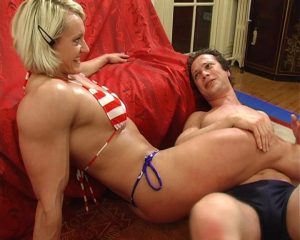 women are paid for their time regardless of whether or not they win the most matches.
There are many categories of women who offer wrestling sessions. This includes pro-women wrestlers, female bodybuilders, martial artists and some escorts. Engaging in session wrestling does not harm their public personas as the matches are held in private. Some are open about it anyway and often advertise. The match is usually held in a place such as a hotel or apartment.
The sessions can be competitive, semi-competitive or fantasy. The type of match varies in intensity, rules and outcome and is usually agreed up before hand. One thing all tend to have in common is no hitting, biting, gouging, etc. Neither participant wish to get hurt or marked and such rules prevent this (although some injuries do sometimes happen accidentally).
Competitive
This type of match involves both combatants trying their best for pins and or submissions. Techniques such as boston crabs, headlocks, leg locks are employed. The provider of this type of session is usually well versed in the fighting arts and is usually quite strong.
Semi-competitive
This match provides for both combatants to try for pins and submissions, though it is less vigorous than a full on competitive match. It is intended to be more fun in nature. Skilled wrestlers, martial artists and bodybuilders often provide this kind of match. Typically they do tend to win as the man often desires to be dominated. Some smaller women such as escorts sometimes offer semi-competitive however without the skills of the other categories, they often find themselves with the man sitting on top applying a pin. If this is allowed, it clearly must be agreed to.
Fantasy
These matches are more erotic with techniques such as breast smothering, face sitting, school boy pins applied. The woman is clearly the victor with the man offering very little resistance. Often the man seeks to be dominated. The attire can vary according to the desire of the man and the woman's limits. Clothing can be something such as a specific costume, a bikini, topless or nude. Bodybuilders in fantasy matches will also likely combine body worship activities such as flexing their muscles and allowing the man to rub and touch them.
There are many effective providers of wrestling sessions who know just how to please the participant. In cities such as Chicago, New York, Los Angeles and most other major metropolitan areas, a perfectly capable session wrestler who provides the type of session you are intersted can be found.
There are some excellent sites dedicated to mixed wrestling. The biggest and most informative is MixedWrestlingPower.com. This site is thorough and very fun. To visit, go to Mixed Wrestling Power.