Like wet sex, Let me feel your lips
glide across the span of my hips.
Frenzied pace, out of breath
my breasts push tightly against your chest .
Taste your desires ,taste your dreams.
Nothing is ever as it seems.
Cilmb to the top of the tallest tree
see what the world holds for me.
Full of passion, want SO bad I i think it's odd
When we are all but memories of a forgotten god.
Tingles of longing form along my arms as I write the last line of my poem, and I only have a second to read through it before I hear the DJ begin to announce my turn on stage. Jumping off the dressing room table I had been slouching on, I shoved my notebook into a locker and ran past the office and through the small corridor that led to the club and second stage. I stop and preen in the mirror, affix my whtie gstring,wiggle my feet in my six inch platform heels to make sure they are are on snug. The sexy kitten purring voice of the DJ say's " Everyone welcome Medina to the stage..voted best dancer in Sunset Strips annual dancing contest".
I smile in spite of myself. That contest had been so fun.I had just started there, having quit Tens. I had worn all white and danced to Enigma's SADNESS. Erotic and slow, like incense slowly floating through the room… I worked really hard to move my hips seductively and do all of the acrobatic pole tricks so many more experienced girls did. And through audience judging, I had beat them all them. I rememeber one girl dressed like a nurse dancing to DR FEELGOOD had stormed off the stage, crying angrily. I wasn't big in the friends department, but man was I loving all of the extra attention from DJ's and clients.
After Carlos the DJ finished announcing me, I confidently strode onto the back stage. Traci Lords songs," I want to" came on,pulsating through steam and red beams. Porn star to singer, Traci Lords still dripped sex. It was my favourite. Carlos the DJ always played that song for me and me alone, but of course I was fucking him. He winks at me from the booth and I overlook glares of hatred from the girls lounging around the booth, curently unoccupied.Everyone wanted Carlos, but he was mine. I turn my ass to the girls and crowd.
I am looking at myself in the mirrored walls and swaying back and forth. I feel so powerful. I bend over from the waist all of the way when then slow sex beat is right, letting all of my hair free fall onto the floor. I am doubled over and spread eagle and my tanned little ass is on display for everyone as I gracefully place my hands on the floor and jump one heeled leg into the air, pulling into a hand stand at the base of the pole with my feet resting against its top. I then use my thighs to grip the pole and pull me upwards and I spin around it with one arm thrown up and chest out with ease , smiling at everyone watching as I perform my sexy antics.. I was the center of attention, they all loved me and I loved it! Never had I been so turned on by my own dancing. A true conceited young girl, I had to keep reminding myself not to watch myself dance in the mirrors. I didn't want any of my clients thinking I was fickle. I always hid things like that.
After my number was over I stepped down from the stage and stood off to the left in front of the DJ booth, tying my bikinni top back on. The latex the law required us to wear over our nipples was peeling and when no one was looking I grabbed the stuff and ripped it off, thinking it was like rubber cement. My nipples bare and tingling from the rip, I exhaled and covered them up. Pacing the strip club floor like a lithe young cheetah, I love the 3d blacklight carpet and stare at it lazily while the DJ announces Shrimp Cocktail and Steak lunch specials. It was still early and a little slow . I notice a young mexican man watching me from the VIP floor and I head up to talk to him, making sure to high step each long and lovely leg, every move was calculated to seduce. I began talking to him for awhile and I really, really liked him. He was sexy, dangerous. There was something edgy there, something dark. I was entranced by him. He ordered me a beer and I killed it in two minutes, obviously impressing him. " Can you do me a favor he says ?" . He has curly brown hair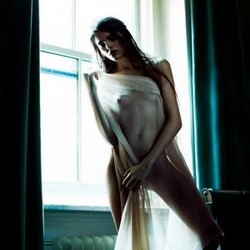 and something about me loved what seemed unscrupulous in him. I had been dancing 5 months now and had not met a customer quite like him. "Sure " I whisper and wink, a move I had just perfected in the mirror a week ago. " Go tell your boss his coke is here " Oggie replies. Somehow it is clear to me that I should not tell anyone else this. My heart beats and the hairs on the back of my neck stand up. I was always terribly hungry for excitement. This was exciting. I had never seen cocaine.
When I get back Oggie has moved to an even darker corner and is sitting with a few of the girls who were just glaring at me previously. I want to walk away but he motions me up, pulls a chair right next to his for me. I shoot a "take that " look at the girls and sit down. I notice he has fine white powder on the table, cutting it into lines with a razor blade. I think like Ray Charles, I wanted a taste…I was just waiting. Oggie rolls up a one hundred dollar bill and looks at me , offering. I notice the crucifix around his neck and the gold virgin mary. Religion is so sexy too, and now I am caught up in the whole "aura" of everything. I sense danger, I feel glamour. The other girls are watching me curiously. Every sense of mine is in hiatus, fringing on the edge of everything. A girl with ridiculously large implants is checking her nose in a compact,another snoritng a litle line. Oggie again gestures at me with the bill and says " Do you want it ?" I think he has the cutest accent. I smile and bend down and say " Sure I do… but can I keep the 100 bill afterwards?" Oggie laughs and says " Sure you can Mijah, sure you can." Just a bit hesitant, I wink in false lashes and grab the rolled bill and lean down.